Here are the latest Winning Writers newsletters with poetry, short story competitions, a screenwriting fellowship and more:
Turn your eBook into a professionally printed book that grabs readers eyes in bookstores |
"I've seen far too many really good books hampered by self-publishers' lack of understanding about how print books should be put together. That's a shame, and it doesn't have to be that way."—

Joel Friedlander



Spot on, Joel. That's why we're giving away his latest book—the Book Construction Blueprint: Expert Advice for Creating Industry-Standard Print Books—to help you turn your eBook into a professionally printed book that grabs readers' eyes in bookstores and libraries.



What will you learn?
How to pick fonts for your book interiors and covers, including lots of free options

Why readers expect your books to be "industry-standard"

Step-by-step instructions to handle short-run offset book printers

Keys to understanding the "language of printing"

Making the decision between Print-On-Demand and offset printing

How to design details like running heads, text breaks, and indexes for your book

Expert tips on preparing your Word files for book production

And much more
Joel's book is perfect for anyone just starting out with self-publishing printed books and authors that want to take their eBooks to print. And it's

absolutely free

. Download your copy and read it now.


© 2001-2017 Winning Writers. All rights reserved except for

fair use

.


351 Pleasant Street, PMB 222, Northampton, MA 01060






ScreenCraft's 3rd annual

Cinematic Short Story Contest

is now accepting entries! This year's
judges are from
Random House Studios
,
Harper's Magazine
and
Tin House Magazine
!
The jury is looking for short fiction (not scripts) with special cinematic potential. Whether you're writing flash fiction or a novella, the judges want to read your story!

The grand prize winner will receive $1,000 and personal introductions to literary agents, managers, film and TV producers and publishers. The top 5 finalists will be read by ScreenCraft's network of over 40 literary and entertainment industry professionals. All rights and ownership to stories submitted to this contest remain with the author, until and unless other agreements are made.
Meanwhile, don't miss ScreenCraft's article in the Huffington Post:

5 Reasons Why Short Stories Are Easier to Adapt Than Novels







The 2017 jury includes:
·

Valerie Cates,

Executive Story Editor at

Random House Studios

, the publishing giant's film and TV production company responsible for developing and adapting the company's huge library of books and stories.
·

Cheston Knapp,

Managing Editor of

Tin House Magazine

, which Stephen King called "an invaluable repository of fine American writing and American fiction, presented in a crisp and entertaining visual format."
·

Emily Cooke,

Senior Editor at

Harper's Magazine

, one of the most highly regarded publications for short stories in the English language, "providing readers with a unique perspective on politics, society, the environment, and culture. The essays, fiction, and reporting in the magazine's pages come from promising new voices, as well as some of the most distinguished names in American letters, among them Annie Dillard, Barbara Ehrenreich, Jonathan Franzen, Mary Gaitskill, David Foster Wallace, and Tom Wolfe."

----------

And if you're writing a screenplay, take a look at the prestigious ScreenCraft Screenwriting Fellowship, designed to develop and launch the careers of talented emerging screenwriters:




Featuring mentors at 5 major studios!

Apply Here

.




© 2001-2017 Winning Writers. All rights reserved except for

fair use

.


351 Pleasant Street, PMB 222, Northampton, MA 01060






Welcome to Our October Newsletter
Deadline extended to October 31
2017 Judges
·
Short Story: Lidia Yuknavitch
·
Nonfiction: Brenda Peterson
Submit up to three unpublished poems, one unpublished short story, or one creative nonfiction piece, any subject, any style. Each poem may have up to 100 lines. Each work of prose may have up to 5,000 words. Fee: $20 per entry.

Submit online at Submittable (preferred)

or mail to:
CUTTHROAT Literary Award
Attn: [Genre]
P.O. Box 2414
Durango, CO 81302
When entering by mail, please make your check payable to

Raven's Word

. Do not staple your entry. All manuscripts must be in 12-point type. MUST include SASE for announcement of winners. Author name must not appear on manuscript. Include cover sheet with name, address, phone, email, genre, and title(s).
When entering online, do not include a cover sheet. Author name must not appear on manuscript. Use 12-point type. Fiction must be double-spaced.
Simultaneous submissions OK. Please notify us if your submission is accepted elsewhere. Submit as often as you wish. Winners will be notified by December 31, 2017.
Please enjoy this selection by Suzanne Parker, author of

Feed

(Tupelo Press, 2016), winner of the 2016 Sunken Garden Poetry Prize:
Small Oranges on a Platter
by Suzanne Parker
You do not need to say desire–
laid out in daylight
on a sideboard
as if there
they will be harmless
as if peel stripped
won't leave a scent
beneath the nails as if,
later, you will not
raise your fingers,
think of separating
the body, section
by section. Use
the word swallow.
Notice the lips' position–
without restraint,
in the middle,
how they open.
Red Blood, Yellow Skin
is the story of a young girl's survival in war-torn Vietnam during the First Indochina War between France and Vietnam, the civil war between North and South Vietnam, and the later American involvement in the Vietnam War. Linda Baer was born Nguyen Thi Loan, in the village of Tao Xa, Thai Binh Province, in North Vietnam in 1947. When she was four years old, the Viet Minh attacked her village and killed her father, leaving Loan and her mother to fend for themselves. Seeking escape from impoverishment, her mother married a rich and dominating widower who was cruel to his free-spirited and mischievous stepdaughter. Loan found solace in the company of animals and insects and escaped into the branches of trees.
In 1954, her family chose to relocate to South Vietnam, rather than live under the yoke of communist North Vietnam. When Loan was thirteen, she ran away to Saigon to flee the cruelty of her stepfather and worked at menial jobs to help her family. At seventeen, she was introduced to bars, nightclubs, and Saigon Tea. At eighteen, she dated and lived with a young American airman. Two months after their baby was born, the airman returned to America, and Loan never heard from him again. She raised their son by herself. However, time healed her heart, and she eventually found true love in a young Air Force Officer, whom she married and accompanied to America.
Red Blood, Yellow Skin
is a story of romance, culture, traditions, and family. It describes the pain, struggle, despair, and violence as Loan lived it. The story is hers, but it is also an account of Vietnam—of those who were uprooted, displaced, brutalized, and left homeless. It is about this struggle to survive and her extraordinary triumph over adversity that Baer writes.
Watch for the sequel coming next month...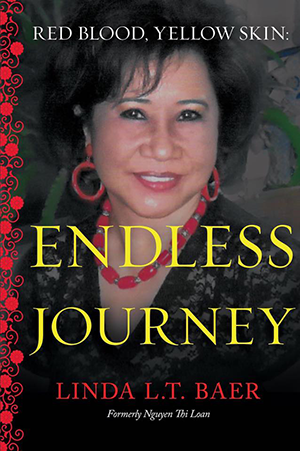 Every decision we make, whether as individuals or as a society, involves some risk—whether physical or emotional, economic or legal, social or spiritual. Our comfort level with uncertainty defines not only our choices in any given situation, but how we live.

For a special issue of

Creative Nonfiction

magazine, we're seeking true stories illustrating the ways we balance the threat of loss against the promise of gain.

Possible subjects could be big or small, personal or public. We're interested in intersections between deeply personal decisions and those that affect larger communities.

·

How is risk intertwined with life decisions like entering relationships, starting or ending a pregnancy, or revealing a sexual or gender preference?

·

How do the risks associated with social interactions, whether online or in person, affect people's behavior or speech?

·

How does risk relate to deeply held religious and/or political beliefs, especially within a pluralistic society?

·

Why do some people actively seek risk, and how does this affect their quality of life?

·

How are emerging technologies such as gene editing and artificial intelligence changing the nature of the risks we face?

·

How do we think about and approach potentially catastrophic risks such as a large asteroid colliding with the earth, nuclear war, or the possibility of artificial intelligence superseding human intelligence?

Above all, we are looking for vivid narratives—true stories, rich with scene, character, detail, and a distinctive voice—with unique insights into these questions.

Creative Nonfiction

editors will award $1,000 for best essay and $500 for runner-up, and all essays submitted will be considered for publication.
FundsforWriters

is internationally known for its level-headed yet tough-love advice to writers, both emerging and seasoned. Recognized by Writer's Digest for its 101 Best Websites for Writers for over 15 years, the site serves up plates full of motivation also delivered in the weekly newsletter to 35,000 readers.

The Best of FundsforWriters, Vol. 1

offers 32 essays and how-to strategies that struck positive chords with readers around the globe.
"FundsforWriters helps writers achieve more success
with their writing by finding and sharing the information that writers need to fund their writing."
—Robert Lee Brewer, Editor,

Writer's Market
"FFW is quite simply the best online resource for writers.
I get dozens of writers' newsletters in my inbox every week, but FFW is the only one I read right away, from top to bottom, and save for future reference. Hope Clark rocks."
—Glenn Walker, Editor-in-chief of the pop culture website,

www.BiffBamPop.com
"No matter what kind of writer you want to be, FundsforWriters gives you the resources, guidance and inspiration we all need to hone our craft.
All writers need hope, and C. Hope Clark's FundsforWriters brings you the tools, resources and real world knowledge that will make you a better writer."
—Mark Lund, award-winning magazine publisher, screenwriter and filmmaker
ABOUT THE AUTHOR

Well known throughout the writing industry,

C. Hope Clark

founded FundsforWriters two decades ago when she could not find what she wanted for her own writing career. Today, she is editor of FundsforWriters, an award-winning author of two mystery series, and an active freelance entrepreneur. She and her motivational voice and writer support message appear often at conferences, nonprofit galas, book clubs, libraries, and writers' groups across the country.
Deadline extended to November 20

The Writing Pittsburgh Book Prize will recognize one book focusing on a subject of regional and national significance, by a writer with a meaningful Pittsburgh connection. The author of the winning manuscript will receive a $10,000 honorarium; publication of their book by the Creative Nonfiction Foundation's independent book imprint, In Fact Books (IFB); national distribution; and a marketing and publicity campaign.

Manuscripts will be judged on originality; the subject's broad appeal and resonance with a national readership; interpretation of the "Writing Pittsburgh" theme; and literary quality and strength of prose. The selected book might be an in-depth reporting project focusing on one organization, individual, or event; alternatively, it might be a more personal writing project—for example, a memoir. All submissions will be judged by CNF's editorial staff.

The winning author will work with CNF/IFB's editorial staff to refine and polish the manuscript.
Looking to publish

Full-Length Poetry Manuscripts by Women Over 50



Deadline: November 30
Prize: $1,000 and publication by Two Sylvias Press (print book and eBook publication, and a vintage art nouveau pendant)
The Wilder Series Book Prize

is open to women over 50 years of age (established or emerging poets) and includes a $1,000 prize, publication by Two Sylvias Press, 20 copies of the winning book, and a vintage, art nouveau pendant. Women submitting manuscripts may be poets with one or more previously published chapbooks/books or poets without any prior chapbook/book publications. (We use an inclusive definition of "woman" and "female" and we welcome trans women, genderqueer women, and non-binary people who are significantly female-identified.) All manuscripts will be considered for publication.
Set in New York City in the early 1990s,
Two Natures

is the coming-of-age story of Julian Selkirk, a fashion photographer who struggles to reconcile his Southern Baptist upbringing with his love for other men.
·
2016 Rainbow Awards: First Prize, Best Gay Contemporary Fiction; First Runner-Up, Debut Gay Book
·
Named one of QSpirit's Top LGBTQ Christian Books of 2016
·
2016 Lascaux Prize in Fiction Finalist
·
2017 National Indie Excellence Award Finalist
·
2017 Book Excellence Awards Finalist
One-Year Anniversary 99-Cent Sale
Buy
Two Natures
at

Amazon Kindle

&

iBooks
for $0.99. Sale ends October 15!
"

Two Natures

is a very honest bildungsroman, a coming of age novel, with all the key factors, finding your path, breaking with your parents' traditions, learning to stand independent, with a healthy side of Southern Baptist guilt and a childhood fractured by abuse... Reiter does exactly what I like in a book, she lets me walk as the character. I am Julian as he struggles against the traditions of his family and the calling of his own soul. I feel his turmoil as he moves through this time in his life and I feel his heartbreak, along with his joy."
—

Gallion Picks Reviews
Deadline: February 26, 2018

Seeking altered states might be one of the oldest human hobbies—for better and for worse—and we're looking for stories that capture the widest possible range of experiences and voices. Whether you (or someone else) were tipsy or wasted, soooooooo drunk or just a little high—on life, or love, or power, or something else—we want to hear your story about being under the influence.

As always, we're interested in stories that are more than mere anecdotes, and we love work that incorporates an element of research and/or makes a connection to a larger story or theme. We welcome personal stories as well as profiles, and above all, we are looking for narratives—true stories, rich with scene, character, detail, and a distinctive voice—that offer a fresh interpretation or unique insight into the theme.

If we're being honest, we're also especially hoping for some happy (or at least lighthearted, if not downright funny) stories—a mix of uppers and downers, as it were.

CNF

editors will award $1,000 for best essay and $500 for runner-up. All essays submitted will be considered for publication.
We send this newsletter to over 50,000 subscribers. Ads are just $150 each. On a tight budget? Pressed for time? Advertise to our 96,000 Twitter followers for just $40 per tweet or less.
Mr. Peters has kindly allowed us to reprint his illustration of "Elegy", the opening poem in Leonard Cohen's very first poetry collection,

Let Us Compare Mythologies

, from 1956.

Visit Mr. Peters' website.
Do not look for him
In brittle mountain streams:
They are too cold for any god;
And do not examine the angry rivers
For shreds of his soft body
Or turn the shore stones for his blood;
But in the warm salt ocean
He is descending through cliffs
Of slow green water
And the hovering coloured fish
Kiss his snow-bruised body
And build their secret nests
In his fluttering winding-sheet.
The Cthulhu Prayer Breakfast and the Death of White Jesus


The Cthulhu Prayer Breakfast was finely balanced on the line between farce and sincere religious-philosophical questioning. The refusal to collapse one mode into the other seemed like a healthy shadow-integration, the Zen paradox that we approach the deepest wisdom through discovering our foolishness.

I wasn't expecting a genuine religious experience at this conference, but I got one. At a couple of points during the weekend, I had this brief and unprecedented feeling of freedom from my constant strivings to cheat death and achieve significance. The Mythos looks mortality and infinity directly in the face and accepts them, even semi-ironically celebrates them, which I found such a relief from the relentless religious-cultural-psychological project of propping up the ego and distracting ourselves from the abyss. [

read more

]
© 2001-2017 Winning Writers. All rights reserved except for

fair use

.
Mailing address: 351 Pleasant Street, PMB 222, Northampton, MA 01060