The latest Winning Writers newsletter features competitions for April:
Award-Winning Poems: Spring 2017
Welcome to my spring selection of award-winning poems, highlights from our contest archives, and the best new resources we've found for writers. These quarterly specials are included with your free Winning Writers Newsletter subscription.


In this issue:

"Le mani" by Vittorio Sereni, translated and illustrated by Julian Peters.


—Jendi Reiter, Editor
Deadline: March 31.
Sponsored by

Cogswell College

. Submit an unpublished short story or work of creative nonfiction, up to 7,000 words. The winner will receive:
·
Publication online and in the print issue of COG, as well as a $1,000 prize
·
A blurb about your short story by NPR/PRI's

Snap Judgment

host

Glynn Washington
·
Your story

adapted as an animated short film

, 2D animation, graphic novel, or series of interpretive illustrations by students in Cogswell's celebrated Digital Art & Animation Program and Digital Audio Technology Program.
Check out the details—including a link to the full submission guidelines—at

www.cogzine.com

.
Please enjoy this

animation

made from

"The Last Gun"

by Anne Harding Woodworth, a 2015-2016 COG Poetry Award winner:
Postmark deadline: May 15
The Blue Lynx Prize

, $2,000 plus publication, is awarded for an unpublished, full-length volume of poems by a US resident or citizen. Send manuscript of at least 48 pages, a $28 reading fee plus SASE (for notification) to Lynx House Press, P.O. Box 940, Spokane, WA 99210, or submit online via

Submittable

. Please make checks payable to

Lynx House Press

.
The 2016 winner was Ralph Burns for his collection

but not yet

. Past judges have included Yusef Komunyakaa, Melissa Kwasny, Robert Wrigley, Dorianne Laux, and Kathleen Flenniken. More details at

www.lynxhousepress.org

.
Please enjoy "Unfinished Figures" by Dave Nielsen, our 2015 winner, from his

book

of the same name.
In Frederic Bazille's "The Terrace at Meric,"
the outline of a woman
sitting on a bench:
ghost-like, in the shade
of a very straight trunked tree:
you get the picture
it is the outline of a dream.
And the shade of the tree is dark,
in contrast to the hot sun
on the oleander bushes,
so that the woman becomes
a dark thought.
And there, in the window,
at the far back of the world,
in the window of the big house,
another outline,
this one not as sharp, so that it seems
there was one ghost the artist was sure of,
and then one that he wasn't.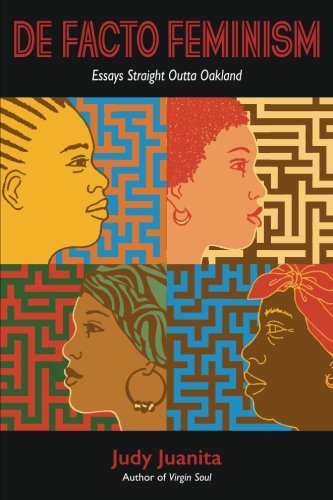 Judy Juanita's
De Facto Feminism: Essays Straight Outta Oakland

is the March 2017 Book-of-the-Month at KIRKUS REVIEWS. From the coveted

starred review

:
This extraordinary set of autobiographical essays gives insight into a black woman's life in the arts: everything from joining the Black Panthers to avoiding African-American chick lit.
Juanita (

Virgin Soul

, 2013) grew up in Oakland, California, in the 1950s. She remembers a "goody-goody" childhood of reading, spelling bees, and chores. America at the time was "a Jell-O & white bread land of perfection and gleaming surfaces," she notes in her essay "White Out"; the only blacks on screen played mammies and maids. She joined the Black Panthers at San Francisco State in 1966 and became a junior faculty member in its Black Studies department—the nation's first. In perhaps the most powerful piece in the collection, "The Gun as Ultimate Performance Poem", written after the death of Trayvon Martin, Juanita sensitively discusses the split in the Black Panthers over carrying guns. She liked guns' symbolic associations and even kept one in her purse while working at a post office. But she now recognizes the disastrous consequences of romanticizing a weapon: "It was Art. It was Metaphor. It was loaded with meaning and death." In another standout, "The N-word", she boldly explores the disparate contexts in which the epithet appears: in August Wilson's play

Fences

, in comedy routines, and intimately between friends. "It's not problem or solution; it's an indication," she concludes. The title essay contends that black women are de facto feminists because they're so often reduced to single parenting in poverty. Elsewhere, she discusses relationships between black men and women, recalls rediscovering poetry as a divorcée with an 8-year-old son in New Jersey ("Tough Luck", which includes her own poems), remembers a time spent cleaning condos, and remarks that Terry McMillan has ensured that a "black female writer not writing chick lit has an uphill challenge."
The author refers to herself as "an observational ironist," and her incisive comments on black life's contradictions make this essay collection a winner.
"In a literary market crowded with Fast Food, Winfred Cook's debut novel

Uncle Otto

is like literary Soul Food. Cook distinctively writes with a very fresh, strong and unique voice that is reminiscent of Ernest Gaines and Jamaica Kincaid.

Uncle Otto

is a very brave undertaking whose path even seasoned writers may have been reluctant to journey. Cook's

Uncle Otto

is a throwback to the southern quilt makers of yesteryears. From chapter one, page one, Cook brilliantly and effortlessly sews the pieces of an African American family together, ultimately unveiling a master heirloom in the form of the unforgettable story of Uncle Otto.

Uncle Otto

is a rare gem which tells the story of the conviction and strength of the African American family and patriarch, which are far too often overlooked in the literary community. BRAVO!!!!"


—Tezira Nnabongo, PhD Attorney, Hollywood, California
"In weaving fiction and family history alongside historical events, Winfred Cook offers a brilliant literary debut in

Uncle Otto

. The novel is complex in plot and character development, displaying one of the most sophisticated analyses of black migration from southern rural settings to the urban north during the early 20th century in the United States. The joy, struggle, and tragedy that pervades

Uncle Otto

is the best that contemporary novelists have to offer."


—Ingrid Banks, author of

Hair Matters: Beauty, Power and Black Women's Consciousness

and Associate Professor of Black Studies, University of California at Santa Barbara
"...the novel is an important account of one family's story. While the events may not all be true in fact, they are true to life, and represent a period of time and a perspective that is underrepresented in literature. That alone makes it worth a second look."


—Kirkus Discoveries
Dwarves and golems, Fates and minotaurs, metamorphoses, murder, and Jean-Jacques Rousseau. L.S. Johnson delivers a provocative and original short story collection that ingeniously blends myth and nightmare. Whether it concerns the efforts of an infertile witch to construct a golem-baby, or a daughter's quest to understand a father's guilt and a mother's supernatural infidelities, or a woman's violent association with a group of possibly imaginary but nonetheless dangerous little men, each story in this remarkable collection demonstrates the limitless capacity of intelligent speculative fiction to enthrall, inspire, and amaze. Available now at

Amazon

,

Kobo

,

Barnes & Noble

, and

iBooks

.

Read a free excerpt.
"I can say without hesitation, reservation or exception that this is a collection full of brilliantly written and powerfully affecting stories, each of which profoundly impressed me in different ways ... Johnson's

Vacui Magia

is a book that never goes quietly, and it is wonderful for it." – The Future Fire Reviews
Red Blood, Yellow Skin
is the story of a young girl's survival in war-torn Vietnam during the First Indochina War between France and Vietnam, the civil war between North and South Vietnam, and the later American involvement in the Vietnam War. Linda Baer was born Nguyen Thi Loan, in the village of Tao Xa, Thai Binh Province, in North Vietnam in 1947. When she was four years old, the Viet Minh attacked her village and killed her father, leaving Loan and her mother to fend for themselves. Seeking escape from impoverishment, her mother married a rich and dominating widower who was cruel to his free-spirited and mischievous stepdaughter. Loan found solace in the company of animals and insects and escaped into the branches of trees.
In 1954, her family chose to relocate to South Vietnam, rather than live under the yoke of communist North Vietnam. When Loan was thirteen, she ran away to Saigon to flee the cruelty of her stepfather and worked at menial jobs to help her family. At seventeen, she was introduced to bars, nightclubs, and Saigon Tea. At eighteen, she dated and lived with a young American airman. Two months after their baby was born, the airman returned to America, and Loan never heard from him again. She raised their son by herself. However, time healed her heart, and she eventually found true love in a young Air Force Officer, whom she married and accompanied to America.
Red Blood, Yellow Skin
is a story of romance, culture, traditions, and family. It describes the pain, struggle, despair, and violence as Loan lived it. The story is hers, but it is also an account of Vietnam—of those who were uprooted, displaced, brutalized, and left homeless. It is about this struggle to survive and her extraordinary triumph over adversity that Baer writes.
Third in the award-winning Carolina Slade Mystery Series
A Governor keeping secrets. A drug lord bent on revenge. And a DEA agent out to make her case, no matter who gets hurt in the process. Once again, Carolina Slade finds herself caught in a web of lies and murder, only this time the case involves a Governor's family secret, and a history of poisonous peanuts with the ability to kill.
"Carolina Slade is the real deal—Southern charm, a steely determination, and a vulnerability she'll never admit to. Slade is at her absolute best in C. Hope Clark's

Palmetto Poison

so hold on for the ride!"


—Lynn Chandler-Willis, bestselling author and winner of the Minotaur Books/PWA Best First Private Eye Novel Competition
"Author C. Hope Clark writes an offbeat thriller with fascinating characters. The pages crackle with energy, the heroine ever struggling to balance her job, her family, and her emotions. She doesn't like being told what to do, and repeatedly gets herself in hot water by challenging authority. She makes mistakes, any one of which could be fatal. This is the third book in the Carolina Slade series and in my opinion the best. Author Clark is maturing as an author, her writing becoming more complex, deeper and richer. Her characters are more lifelike, her plots more intriguing. You would never figure out where this one was going without knowing in advance, but in the end it all makes sense. Looking for an unusual thriller with a South Carolina setting and a marvelous cast of characters, this is one novel you need to get hold of."


—Louis N. Gruber, Vine Voice Amazon Reviewer
On sale March 1-15: $1.99 at all online venues. Winner of the Killer Nashville Silver Falchion Award for best traditional mystery.

www.chopeclark.com
ProLiteracy

, the largest adult literacy and basic education membership organization in the nation, believes that a safer, stronger, and more sustainable society starts with an educated population. For more than 60 years, ProLiteracy has been working across the globe to create a world where every person can read and write.

Learn more.
Advertisers: We send this newsletter to over 50,000 subscribers. Ads are just $150 each. On a tight budget? Pressed for time? Advertise to our 84,000 Twitter followers for just $40 per tweet or less.
"We were very pleased with the results of our solo blast with Winning Writers.
It generated a significant volume of leads for us at a competitive cost."
-Tom Laverty, Business Development Manager, BookBaby
Reprinted by kind permission of Julian Peters. See his translation below.

See more comics.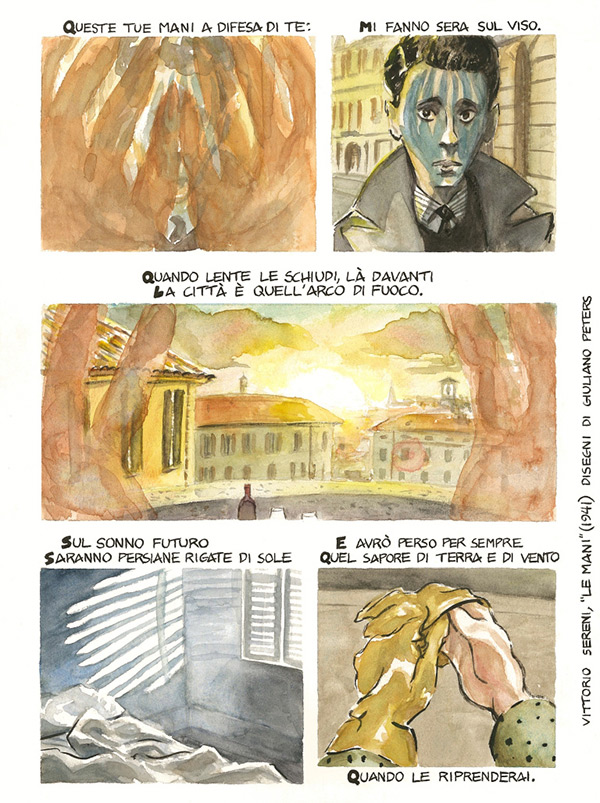 These hands you raise in self-defense:
They cast an evening over my face.
When you slowly open them, there ahead
The city's a crescent of fire.
On the future sleep
They'll be blinds striped with sun
And I'll have lost forever
That taste of earth and wind
When you take them back.
© 2001-2017 Winning Writers. All rights reserved except for

fair use

.
Mailing address: 351 Pleasant Street, PMB 222, Northampton, MA 01060